We believe natural jam doesn't have to compromise on taste.
Our recipes are made from three simple ingredients: whole fruit, minimal sugar, and lemon. Whenever possible, we source fruit that is locally grown right here in Northwest Ohio and Southeast Michigan! Our recipes are dairy free, gluten free, nut free, vegan-friendly and never contain artificial ingredients, gels dyes or preservatives.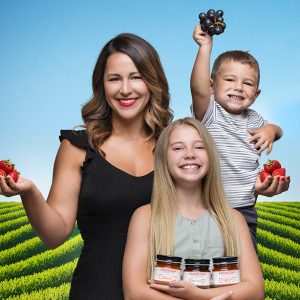 Even though the world is slowing down, we've been hard at work.
This year has been full of uncertainty but one thing we never had to question was if we'd still be Pantless in 2021.
So thank you!
Thank you for coming out to the markets, placing orders for delivery, and shopping the local retailers that carry our Pantless Jams products. We are so grateful for the support!
Best jam ever! I love all the flavors! The new caramel apple is amazing!…it tastes like fresh apple pie…my niece and I had a jam sampling party and her favorite was apple too! 🍎I'm gonna grab more to give as gifts for coworkers…the holidays will be here before we know it!
Tifanie B.
Because they are homemade ,delicious and a great selection for everyone
Bridget F.
One has Pantless Jams, one doesn't.
Dan H.
These jams have such bold flavor, you don't need much! Grape Trio is my favorite…I typically shy away from grape jam/jelly since it tastes artificial, but the depth of flavor & texture make this one a gem. Do yourself a favor & grab some!
Molly O.
I just made Coconut Shrimp and used the Peach Mango Habanero as the dipping sauce. It was WONDERFUL!!!
Joanne B.
Bought strawberry rhubarb and peach mango habenero from Bedford farmers market and are both amazing!!!! Thank you!
Marcy M.
The best jam I've every had!
Isabella S.
I received some yummy jam from Jessica and it's Awesome!!! I annoy myself with my being picky with food but this jam is highly recommended! So good!
Barbie W.
Taste and consistency is right on point! So good that it's hard to put down once you open a jar!
Michael B.
I used Black and blue jalapeño on salmon as a glaze. It was delicious!
Dani R.
Love them! My favorite is the triple berry and the black and blue jalapeno is rly good too!!
Taylor L.
Locally grown; Sold at the Bedford Farmer's Market. 1st tried Mixed Berries, then Cherry Pineapple, now Black & Blue Jalepéno…a friend recommended Banana Fosters. Will always support and purchase from this beautiful couple!!!
Stephanie B.
However you choose to indulge, we know you'll enjoy them. So sit back, relax, and go Pantless.